Duurzame, waardevolle vrijwilligersprojecten.
Unieke culturele ervaringen.
Spannende avontuurlijke reizen.
De Peru Discovery is een tour van 2 weken die je unieke reis-, culturele en vrijwilligerservaringen biedt, waarbij je jezelf onderdompelt in vrijwilligerswerk projecten en deelneemt aan fantastische reizen, terwijl je ondersteuning van topkwaliteit krijgt tijdens je reis naar Peru.
Peru Discovery
14 nachten/ 15 dagen
Als je op zoek bent naar een unieke Peruaanse ervaring, zoek dan niet verder. De 15-daagse Peru Discovery is een vrijwilligersreis in het buitenland is de ultieme Community Engagement, Cultural Immersion en Adventure Tour in Peru.
Start datums: 
1 januari 2023, 15 januari 2023, 5 februari 2023, 19 februari 2023, 5 maart 2023, 19 maart 2023, 2 april 2023, 16 april 2023, 7 mei 2023, 21 mei 2023, 4 juni 2023, 18 juni 2023, 2 juli 2023, 16 juli 2023, 6 augustus 2023, 20 augustus 2023, 3 september 2023, 17 september 2023, 1 oktober 2023, 15 oktober 2023, 5 november 2023, 19 november 2023, 3 december 2023, 17 december 2023
Unique Cultural Experiences
Immerse Community Projects
Join Fantastic Worthwhile Trips
Receive Top Quality Support
Location
De projecten bevinden zich in Cajamarca en Chiclayo.
De stad Cajamarca is de hoofdstad en grootste stad van de regio Cajamarca in Peru, verrijkt met cultuur en geschiedenis, deze rustige locatie biedt een ontspannen sfeer.
Chiclayo is de hoofdstad van de regio Lambayeque in het noordwesten van Peru.
Aankomst
Op zondag wordt u bij aankomst opgewacht op de luchthaven. Je wordt opgehaald door het lokale team en naar je accommodatie gebracht om de andere deelnemers te ontmoeten.
We zullen u de volledige aankomst- en contactgegevens verstrekken wanneer u uw programma boekt.
Uw vertrek is vanaf de luchthaven van Chiclayo. Uw airport drop-off is inbegrepen.
Accommodatie & Maaltijden
De accommodatie is in gedeelde kamers met andere deelnemers. Gedurende de hele reis wordt u ondergebracht in gedeelde kamers voor hetzelfde geslacht.
Uw maaltijden zijn inbegrepen tijdens uw programma volgens het onderstaande reisschema.
Day 1: Arrival and pick up
Cajamarca
Sunday is the day you arrive in Peru!
You will be picked up from the airport.
Then it is time to settle down in the accommodation and meet the other participants.
In the evening dinner will be organized for you.
Meals: Dinner
Day 2: Orientation Session & Local Tour
Cajamarca
Morning
You will receive an introduction to Peru Culture, the Do's and Dont's in Peru, background info about the projects you will be involved in, Peruvian cultural lessons, and your first intensive Spanish Language Lessons!

Afternoon
In the afternoon, there is a walking tour around the area, and you will be visiting Cajamarca.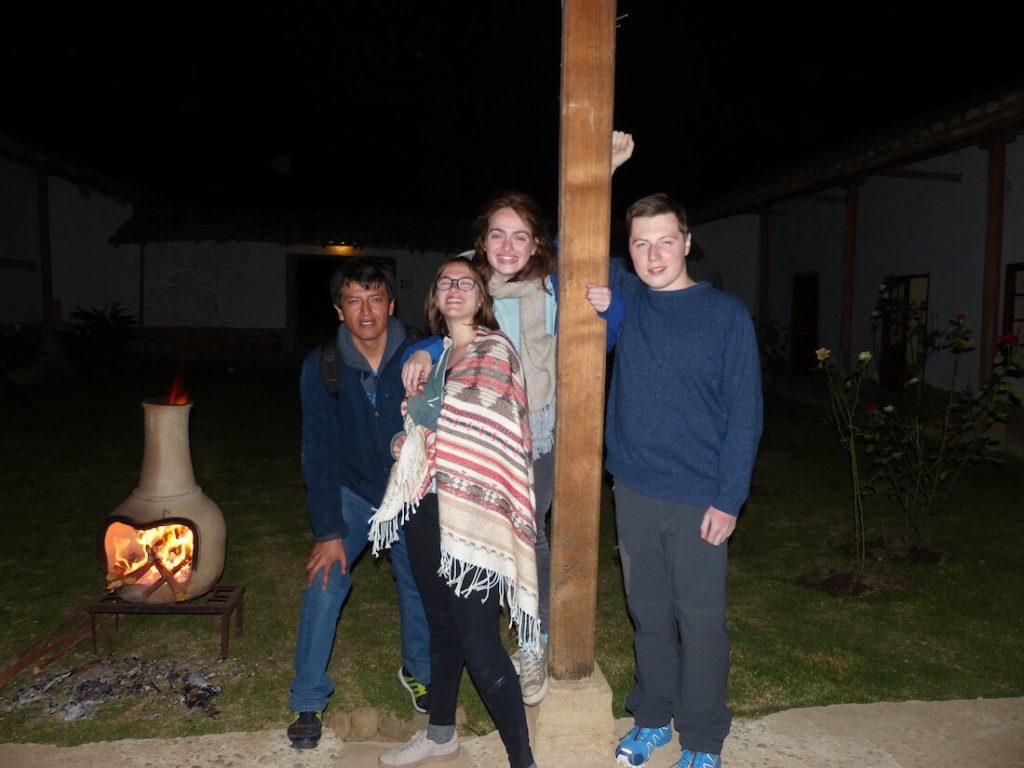 Meals: Breakfast/Lunch/Dinner
Day 3, 4 & 5: Volunteering at Social Project & Environmental Conservation
Cajamarca
Today you will start to participate in a Social Project and the Environmental Conservation
During the Eco Build Experience and hydroponics farming, you will join our workshops at the mud building site, where you will help to improve the living standards for local families, by providing eco-friendly maintenance, renovation or construction, of their mud homes and community facilities.
You will also learn about and support the families hydroponic farms, by planting, watering and harvesting forriage for their livestock or vegetables for their family consumption.
Our workshops are not only a physical experience, participants become students, experiencing a deep personal transformation from the learning experience combined with the community bonding, living close to the Earth, eating local traditional meals, and, most importantly, being away from routine life and the stressors of technology, fast-paced living and disconnection from others.

In the evening
In the evening there are some activities organized for you!

On Tuesday: Language Classes: Learning Spanish: Second Intensive Spanish language class

On Wednesday: Peruvian Cooking Classes & enjoy your own made Peruvian dinner

On Thursday: Karaoke night 
Meals: Breakfast/Lunch/Dinner
Day 6: Hiking, Yoga & Language Classes
Cajamarca
Morning
Let's go on a hiking trip!
You will be hiking to Las Cruces. There will also be a yoga session and a picnic lunch at the top of the hill, an amazing experience!

Afternoon
In the afternoon you will hike to a waterfall and to Llacanora.

Evening
In the evening time to learn, you will continue with your Intensive Spanish language classes.
Meals: Breakfast/Lunch/Dinner
Day 7: Adventure & Excursion
Cajamarca
Morning
Today you will do an adventure trip to the Lagoon with activities including a boat trip and hiking to the local ruins.

Afternoon
In the afternoon, we leave the lagoon and go on an excursion to Namora village.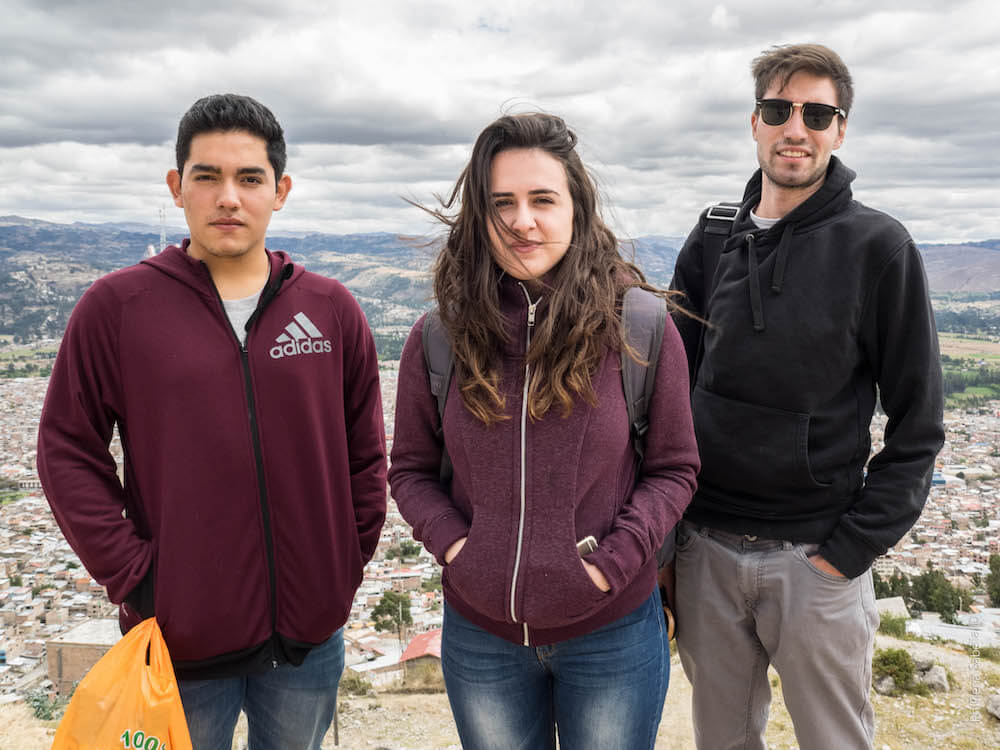 Meals: Breakfast/Dinner
Day 8: Free Day & Transfer to Chiclayo
Cajamarca
This day is a free day, relax and enjoy the tranquillity of a Sunday in Peru!

In the evening
You need to pack your bags for the overnight transfer to Chiclayo by bus.
Meals: Breakfast/Dinner
Day 9:

Introduction & Excursion to the Wildlife centre


Chiclayo
First, we get settled in the accommodation in Chiclayo, where you will stay with a Chiclayo local family, and take a rest from the overnight journey.
You can relax and spend time with your homestay family.
Meals: Breakfast/Lunch/Dinner
Day 10, 11 & 12: Volunteer at Endangered Wildlife Centre
Chiclayo
Time to volunteer at the Endangered Wildlife Centre!
Here you will support the endangered Wildlife Centre, by feeding the animals, learning about and taking care of the animals, and helping with maintenance work in their living areas.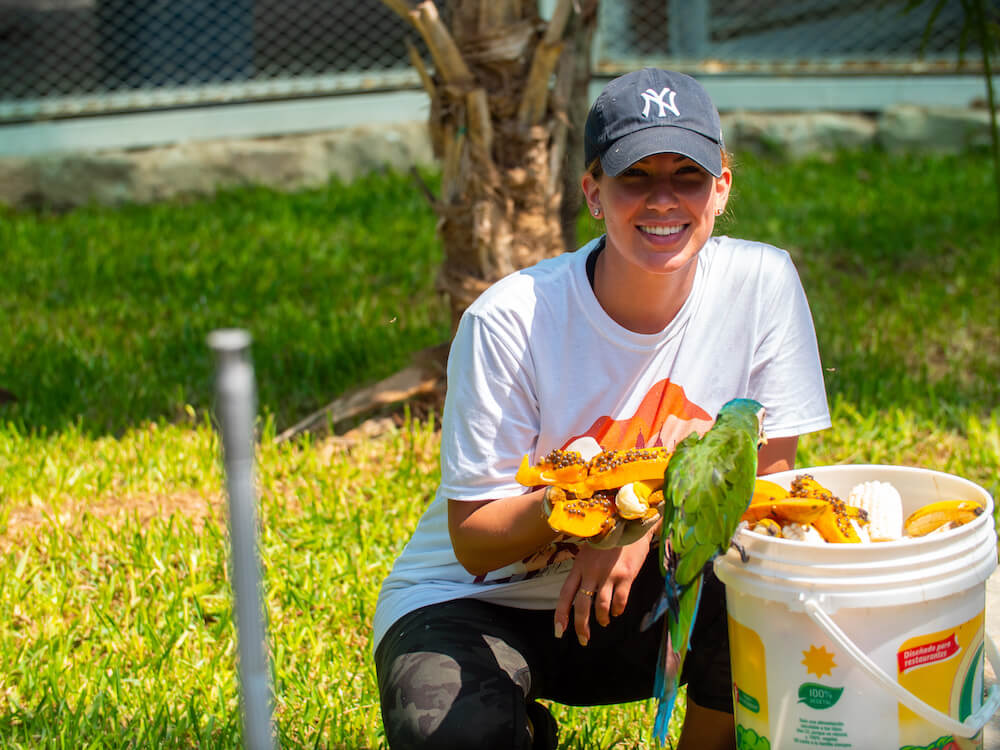 Meals: Breakfast/Lunch/Dinner
Day 13: Tour to Tucume Valley of the Pyramids
Chiclayo
Today there is a tour to Tucume Valley of the Pyramids. This is biggest pyramid complex in the world!
You will also visit the Tumbas Reales Museum.
Meals: Breakfast/Lunch/Dinner
Day 14: Beach time
Chiclayo
Today is Beach Time!
We will bring you to the beach for some last-minute beach time. Enjoy!
Meals: Breakfast/Dinner
Day 15: Departure day
Chiclayo
Say your goodbyes to your travel mates and the local team and exchange some contact details. You will be provided with a drop-off at the airport in Chiclayo from which you can head home or to your next travel destination.
Thanks for joining this amazing experience!
Meals: Breakfast
* This schedule can be changed and/or amended depending on weather conditions, local conditions and unforeseen circumstances
1395 Euro
Nu is er een 5% KORTING dus boek nu!
Wat is inbegrepen in de prijs:
Vrijwilligerswerk programma
Accommodatie in gedeelde kamer
Maaltijden: maandag tot vrijdag 3 maaltijden per dag, weekend 2 maaltijden per dag
24/7 ondersteuning in het land
Programma oriëntatie in het land
Ondersteuning vóór vertrek
Airport pickup
Niet inbegrepen in de prijs:
5% internationale bankkosten in rekening gebracht, visa, vluchten, reisverzekering, vaccinaties, verklaring omtrent gedrag (Nederland) of bewijs van goed gedrag en zeden (België), Covid-tests (indien nodig), dagelijks vervoer naar je project en terug naar je accommodatie, terugreis naar de luchthaven, transfers tussen verschillende locaties
Vereisten om mee te doen:
Vrijwilligers moeten minimaal 18 jaar oud zijn
Vrijwilligers onder de 16 jaar moeten worden vergezeld door een ouder
Vrijwilligers van 16-17 jaar hebben toestemming van hun ouders nodig
Vrijwilligers zijn verplicht om een ​​verklaring omtrent gedrag (Nederland) of bewijs van goed gedrag en zeden (België) te hebben
Vrijwilligers zijn verplicht om een  reisverzekering te hebben
Het kan zijn dat vrijwilligers voor vertrek een Covid-test moeten laten doen (we zullen je hiervan op de hoogte stellen)
Reserveer je plaats in 3 stappen:
1. Vul het aanvraagformulier in (klik hieronder) en wij contacteren je binnen de 24 uur
2. Na acceptatie betaalt je een aanbetaling van 200 Euro om je plaats in het programma te reserveren
3. Je betaalt de resterende kosten van je programma (min de aanbetaling van 200 Euro die je al hebt betaald) zes weken voor je startdatum van je programma
Doe mee met onze vrijwilligersprojecten in Peru, waar we verschillende projecten beschikbaar hebben:
Culture Week
Teaching Project
Kindergarten Project
Special Needs Care
Eco Building Experience
Endangered Animal Sanctuary
Veterinary Dog Care
Surfing & Beach Cleaning